Month of the Fire Goat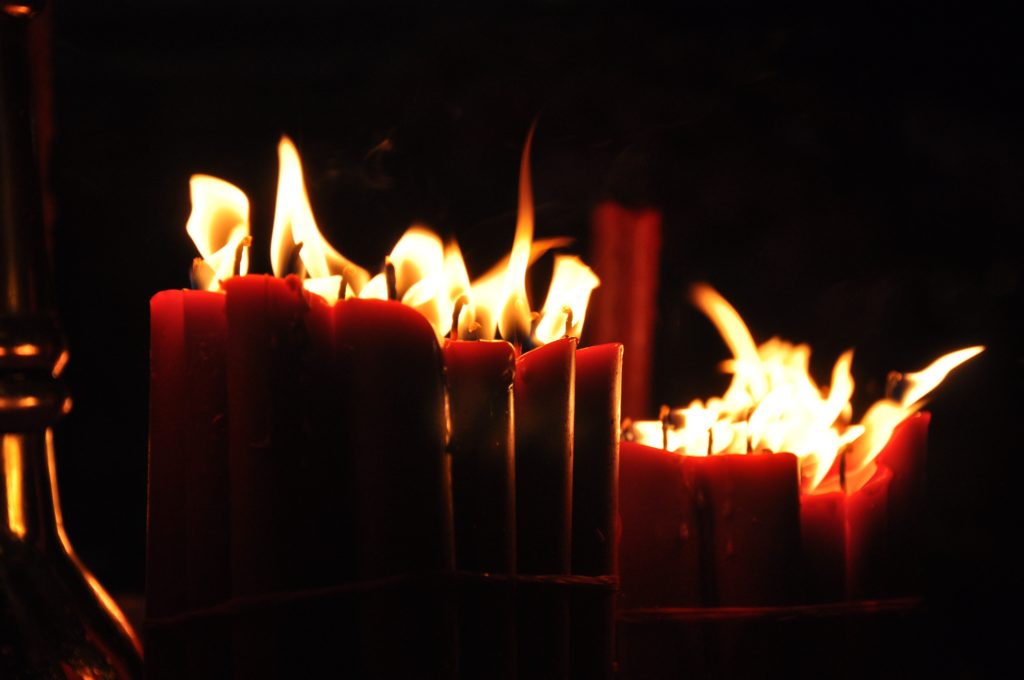 This month is a Yin Fire Goat month in a Yin Fire Rooster year.  Yin Fire, called Ding, is man-made fire and the imagery for this element is a candle flame. This month we have multiple candles to light the way. Ding fire is the fire of illumination, inspiration, it is the fire that can forge, transform and set the world ablaze. Ding fire can be a delicate candle in the wind or an out of control forrest fire. As Ding fire is man-made fire, whether or not this flame is useful or destructive is ultimately up to us.
The Goat month is the final month of the summer season, a transitional month in which the first two weeks are fire and the second two become earth.  This month is also a noteworthy time of transition in a larger cycle of fire that began in February 2013 with the year of the water snake. Transition points are often a time of reflection when we take stock of where we have been and look to where we are heading. With 5 years ruled by fire. the element of change and transformation, chances are you have seen a lot of change during this time. Are you where you hoped you would be? Are you looking ahead with excitement or with trepidation? If its the latter this may be a good time to reassess.
The I Ching hexagram for this month is #18 called Remedying and sometime it is also translated as Poison. This hexagram describes a stale and stagnant situation that has gone sour or even poisonous to us. It is like food left at the back of the pantry which has spoiled or even been infiltrated by worms. When we discover rotten food in our refrigerators we know what must be done – we simply throw it out. In our lives however, we make it more complicated than it needs to be and allow toxic situations to continue to fester unchecked. This hexagram tells us that we can no longer keep our heads in the sand about the situations which have become toxic to us, it's time to look them in the eye and do something about it. The advice of this hexagram is to either remedy and repair the situation if possible and if not, to chuck it out. Allow the fire energy of this month to fuel the changes that need to be made and allow a change for a for the better.
Important Dates:
Wood Fire Goat Month July 7 –  August 6
IMPORTANT DATES:
Ox People: This is your clash month so use caution in general especially on Goat days which are  July 7, 19 & 31, as the clash energy is doubled up on these days.
INAUSPICIOUS DATES:
These are the days that are generally inauspicious for everyone, days to use caution on, and unsuitable for important events or activities.
Month Breaker: These days, which are also Destruction days, are days with unstable energy, days when things just don't go right or tend to fall apart – hence destruction. Caution is urged especially for Goat people as these are also your personal clash days and they are July 13 & 25.
Year Breaker: Though not generally as volatile as Month breaker days, these are still days to take it easy and to be vigilant, especially Rooster people since these are your personal clash days and they July 15 & 27.
AUSPICIOUS DATES:
These are the days that are generally lucky for everyone, except those who clash with it. These are great days to plan important events or activities.
Success Days: Unfortunately, this month Success days are also the Year Breaker day which renders them inauspicious and not recommended for important activities.
Stable Days: July 11 & 23. Since Success Days are not good days for important activities this month it is best to plan important events that require long term stability and longevity for Stable Days. (Clash to Snake People)
Initiate Days: July 12 & 24. If you are looking to take advantage of the transformative power of the Fire season to begin a new health or exercise regimen, Initiate Days are the perfect days to get started! Rat, Dragon, Monkey and Ox people especially will benefit from the energy of these days (Clash to Horse people).
Remove Days:  July 8, 20 & August 1, three opportunities this month! Whether you want to clean out closets, shed unwanted pounds or shed unwanted people, these are the best days to do so as the results will be better  Monkey, Rat, Dragon and Snake people will benefit the most from these days (Clash to Tiger people).
*If you have an important event like a wedding or business launch to plan it is best to have a personalized date selection analysis to ensure the best outcome.
*Don't know what animals are in your chart or how they may affect you? Contact me for a personalized astrological chart reading!
 
FENG SHUI:
This month also brings new monthly energy to each of the 9 sectors of your home and office and here are the highlights.
South: This is the most negative sector for the year and this month the #7 or Robbery Sha Star is visiting. If you have a main door in this sector it is a good idea to make sure the locks and security system are in good working order. Also a good idea to continue to keep the activity in this sector to a minimum.
North:  This sector is a very positive one all year and an area that is particularly supportive to career advancement. This month the North gets a boost from the visiting #8 Star, which is the current wealth star, gives a boost to earning power! It will also help you make the right connections for your business. If you have to be indoors this month this is the best sector to be in.