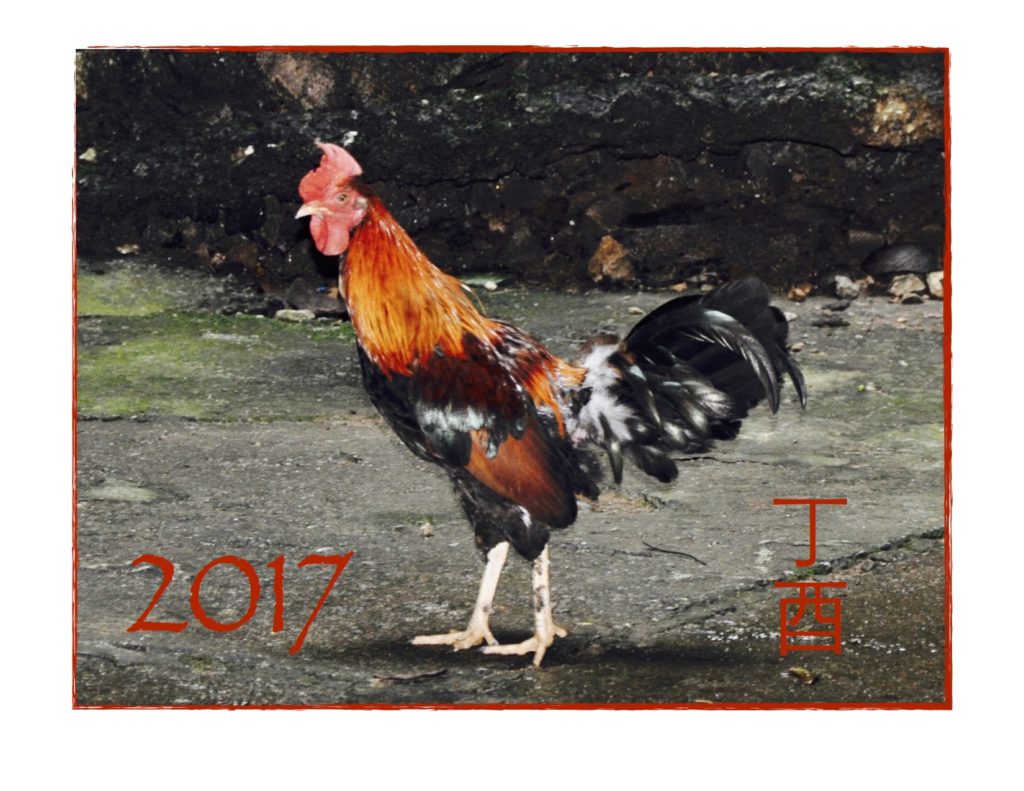 Feng Shui is 'Earth Luck', or the impact our environment has on our lives.  Our goal is to understand what energy is around us and position ourselves to make the most of it, avoiding the bad and accentuating the good.
Each year brings new energy into each of the 9 sectors or 'Palaces' of our home of office.  These areas are specific areas within the whole house or building based on compass directions. So, if you are in an apartment or office building it is a good idea to see which part of the building you occupy in order to know how the yearly energies will affect you more specifically.
For those who don't already know where the 9 sectors are in their home or office are, the first thing you must do is to figure out where North, South, East, West, etc. are relative to your space using a compass. If you don't have a boy scout style magnetic compass, a smart phone set to Magnetic North actually works well for this!
Once you have that sorted out you can apply it to your home like this: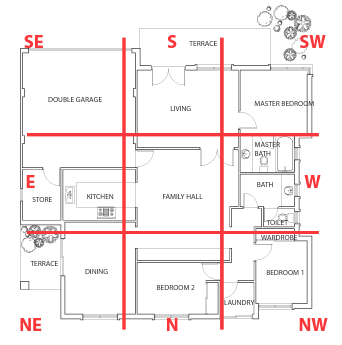 Yearly Afflictions:
To renovate or not to renovate that is the question, and if you are contemplating a renovation then here are 3 areas you should avoid.  Disturbing these areas will trigger negative energy which can result in accidents, mishaps and general misfortune. This advice applies to inside to the interior or the home/building and the exterior areas as well.
West 2 Rooster sector 262.6 – 277.5 or due west as the Grand Duke here.
The entire East sector as it contains the San Sha or the 'Three Killings' as well as East 2 Rabbit sector 82.6-97.5 which is the 'Year Breaker'.
The entire South sector as this area contains the negative 5 Yellow this year.
The best way to make your space support you this year is to see what energy is in each of the 9 sectors of your home avoiding the negative and tapping into what is positive. Here is what to the year energy brings to your space palace by palace.
The Negative Palaces:
South: This year the most negative energy, the annual 5 Yellow star, resides in the South.  In addition to avoiding renovation or other physical disturbances both on the interior and the exterior, this is an area we want to spend as little time as possible since frequent use activates the negative energy and can bring illness and misfortune into our lives. If your bedroom or work space is in this area of the home consider moving to anther room for the year. Yes, seriously. If your main door is in this sector consider using another one if possible.  If your bed, desk, stove or main door is in this area and you cannot move it then be sure to cure this area with metal and a salt water cure (click here for directions on how to make one http://bethgracefengshui.com/salt-cure/).
Northwest: The Northwest has the 2 Star or Illness star residing here this year.  The same advice for the South sector applies to this sector, especially if you or a loved one who is in this sector already suffers from an illness. Consider moving out of this area or using it less if you can. If you cannot, be sure to cure this area with metal and or a salt water cure as well.
Southwest:  While not as negative as the South or Northwest, the Southwest is not very favorable because of the presence of the 7 Star also known as the 'Robbery Star'.  This star can cause rivalry, jealousy and unhealthy competition between people as well as problems with illness. True to its name it also can increase the likelihood of actual robbery when activated.  If your door is in the Southwest use another door if possible. Make sure your locks are secure, and if you don't already have one consider investing in a security system. The traditional cure for this star is water but please make sure it is still water only, no water fountains here this year. It is important to note however that not all aspects of the 7 star are bad, in fact it does supports those who use their voice like singers and public speakers, so if this is your profession or a skill you want to support, you can use this area with some caution.
West:  The west sector is host to the 3 Star or 'Arguments' star.  Spending a great deal of time here could bring more arguments and disagreements. These conflicts could escalate into legal entanglements or lawsuits as well. Fire, in small amounts, is the element needed to suppress this negative star. If you feel however that you have reached a plateau and you would like to break out of a rut then you can occupy this area to shake things up and make a breakthrough. Just be sure not to 'confront the Grand Duke' who embodies the ruling energy of the year, by facing due West (262.6 – 277 degrees) while you are working.
The Positive Palaces:
Center:  The auspicious 1 White Star is in the central palace which supports career, academics, and brings helpful people as well. Since the 1 star is a water element star it also aids in communication and gives a boost to networking and travel. Metal is the best element to enhance and support this auspicious star.
Northeast: The #4 Star is in the Northeast this year which supports education and academics. This is the best place to spend time if you want to write, study, work on learning a new skill, or if you are just looking for the best home work spot for your children. The 4 Star also brings 'Peach Blossom' luck which means romance, so if you are looking to meet someone new this year then this is where you want to be. Water is the best element to add if you want to enhance this auspicious star.
North: The #6 Metal Star is in the North palace this year which brings new opportunities with it as well as recognition, salary increases and promotions. If you are looking for greater recognition for your work, or if you want to support your climb up the corporate ladder, then this is the best sector to spend more time in this year. If you want to strengthen the power of this lucky star then metal is the best element to add to this sector.
Southeast: The Joyful #9 Star is thriving this year in the Southeast palace this year and brings blessings and happy events like marriages, promotions and profits on investments. If you have a bedroom, office or main door in this sector you will benefit the most from this positive energy. If not, find ways to spend more time in the Southeast and if you have an alternate entrance in this sector this is a good year to use it! Wood and fire are both welcome in the Southeast if you seek to give this happy and future building star a boost.
East: If your mind is on your money and your money is on your mind, then this year you will want to utilize the East sector of your home or office as the #8 Star, which is the current period wealth star, is residing here. If you want to find a way to boost your bottom line then find reasons to be in this sector as much as possible. The #8 star is a bit weaker in the East so you can strengthen it with fire and frequent activity, just don't activate it with any renovations!
If you would like more specific and individualized information on how you can best tap into the yearly energies in your space, be sure to contact me.
Happy New Year!